Vidya Academy of Science & Technology
A unit of Vidya International Charitable Trust
Vidya Centre for Artificial Intelligence and Research

04885287751
04885287752
vcair@vidyaacademy.ac.in
About
V-CAIR (Vidya Centre for Artificial Intelligence and Research) has been formed to promote the Vidya Zonal Lead Partership with leadingindia.ai which is a nation-wide initiative on AI Skilling and Research with an object of Transforming India Next revolution in providing AI man power to the world.
Vision
Progress through research and education in Artificial Intelligence and thereby transforming the nation.
Mission
To promote research and innovation in Artificial Intelligence and to foster collaboration with Academia, Industries & Start-ups.
To develop the skills of next generation in Artificial Intelligence for the betterment of society.
People
Administration
Er. G Mohanachandran - Executive Director, VICT
Mr. Suresh Lal - Finance Director, VICT
Mr. Gireesh Kumar - Secretary, VICT
Advisors and Reviewers
Dr. Agnisarman - Dean-PG Studies
Dr. Sudha Balagopalan - Prof. & Dean-Academics
Dr T N Padmanabhan Nambiar - Sr Professor (PG)
Research Group
Dr. Saji C B - Principal, VAST
Dr. Ramani Bai V - Head of V-CAIR
Mr. Ravisankar S - Member V-CAIR
Mr. Ramesh C R - Member V-CAIR
Mr.Sreekanth R Shekar - Member V-CAIR
Mr. Nakulraj K R - Member V-CAIR
Faculty club
Ms. Nirmala Krishnan - Assistant Professor, CE
Ms. Kavitha Ramachandran - Assistant Professor, CSE
Ms. Jasna S B - Assistant Professor, EEE
Mr. Suraj Rajappan - Assistant Professor, ECE
Dr. Ramadas T - Assistant Professor, PE
Mr. Manesh D - Assistant Professor, MCA
Activities
First Formal Meeting of V-CAIR
FIrst formal meeting of Vidya Centre of Artificial Inntelligence and research (V-CAIR) was conducted on 30/05/2018. All administrators, advisors and reviewers annd research group members of V-CAIR attended the meeting. Dr.Ramani Bai V, HOD, CSE and Head of V-CAIR addressed the meeting and shared the objectives and goals of V-CAIR.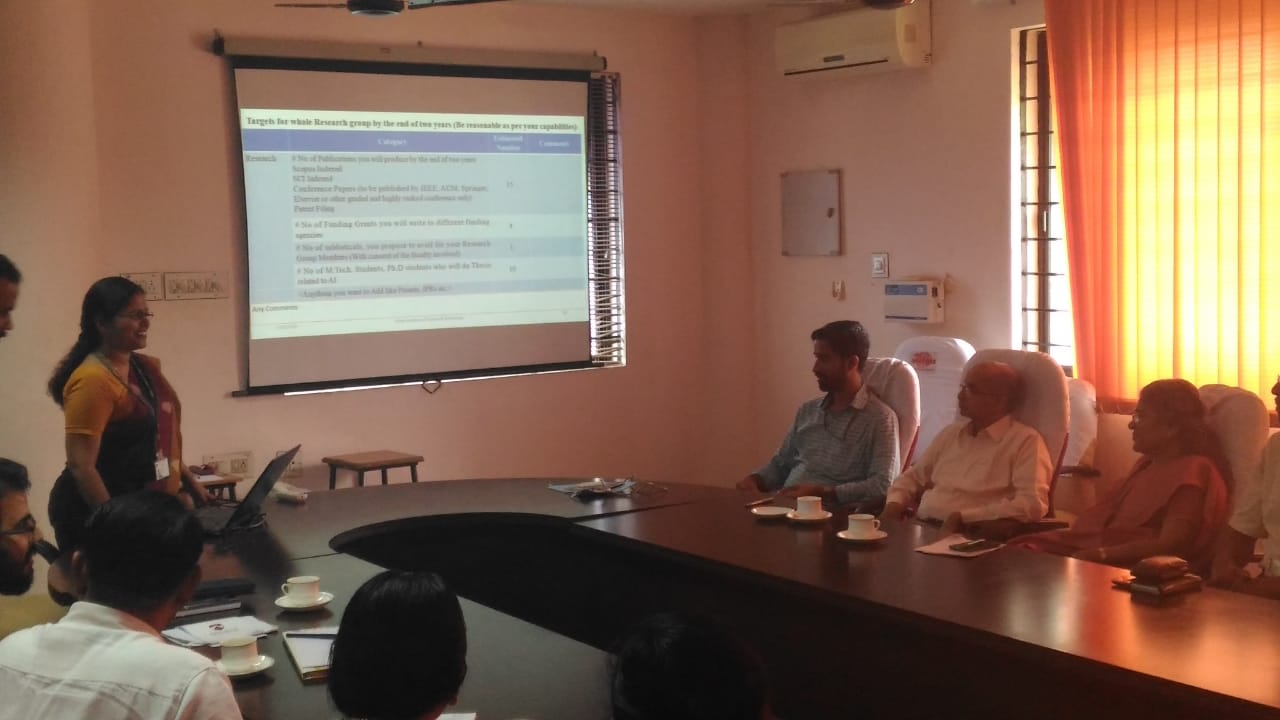 Vidya on the path of progress through machine learning
Vidya is scaling greater heights. With much hopes and expectations, the nascent Vidya Centre of Artificial Intelligence and Research (V-CAIR) was formally inaugurated by Mr Rajeev M Azhuvath, Digital Consultant, TCS, in a solemn function held in the College Auditorium on 19 September 2018. Mr Ratheesh, AI Developer, TCS, was also present on the occasion. It was an auspicious moment that was blessed with the presence of Executive Director Er G Mohanachandran, Principal Dr Saji C B, Dean-Academics Dr Sudha Balagopalan and Vice Principal Dr V N Krishnachandran. Head of CSE Department Dr Ramani Bai V, faculty and staff members and the students of CSE Dept were also present to witness the proceedings.
The program began with a welcome address by Dr Ramani Bai followed by presidential address by Principal. The V-CAIR was inaugurated by lighting the lamp of knowledge and by launching the V-CAIR website. To add to the occasion, lecture notes on machine learning prepared by Dr V N Krishnachandran was published by Mr Rajeev Azhuvath in the V-CAIR website.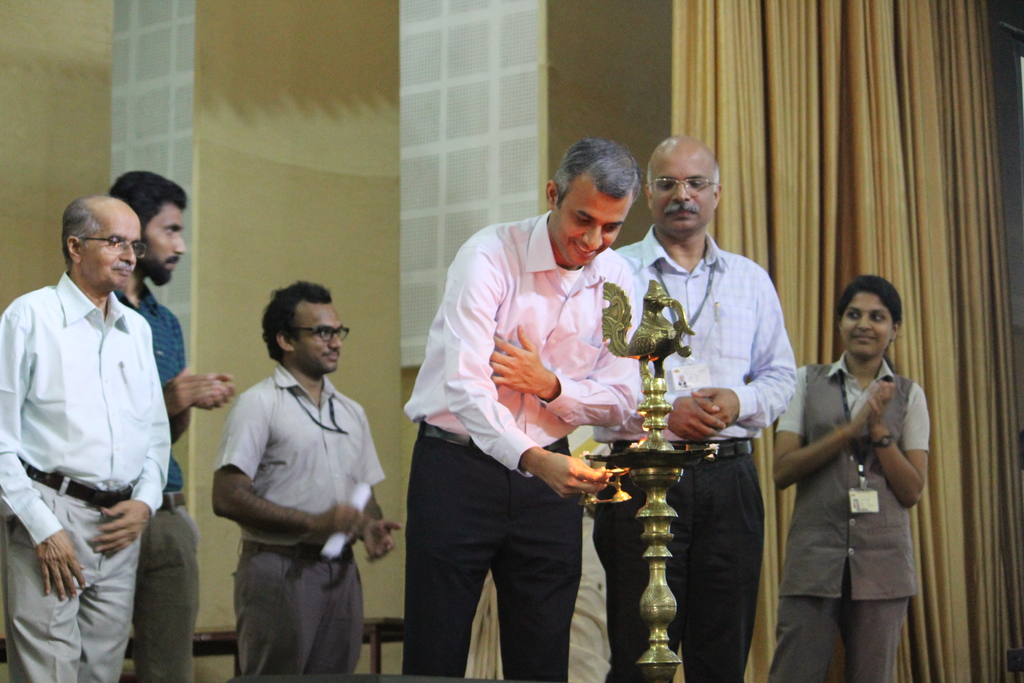 As part of the inaugural programme, there was a technical session which was handled by Mr Rajeev M Azhuvath and Mr Ratheesh A. They talked about Artificial Intelligence and some industrial use cases of AI. An introduction on Rasberry PI and a live demo on object detection were also held. Both the sessions were interactive and students were enriched with knowledge and exposure to the world of machine learning. The students were able to get first hand information about the industrial techniques and thereby get exposure to current industrial technology in the field of machine learning.
Projects
CANCER CELL DETECTION & SEGMENTATION
PREDICTING STUDENT PERFORMANCE USING DEEP NEURAL NETWORK
ROVER (SPACE TECHNOLOGY)
ESSAY GRADING SYSTEM
AI BASED CHAT-BOT SYSTEM
STUDENT JOB PREDICTION
NETWORK INTRUSION TECHNIQUE
TRAVEL ROUTE SUGGESTION BASED ON PATTERN &TRAVEL DIFFICULTIES
AI STUDENT ASSISTANT
TUMOR DETECTION FROM MRI
WASTE CLASSIFICATION
CUSTOMER CLASSIFICATION BASED ON HISTORICAL PURCHASED DATA
DISASTER PREDICTION
TEXT TO SPEECH CONVERSION
LIBRARY MANAGEMENT SYSTEM
IMAGE ORIENTED ONLINE SHOPPING
FAKE NEWS DETECTION SYSTEM
COLLEGE ENQUIRY CHAT-BOT
GESTURE RECOGNITION FOR COMPUTER INTERFACING
SMART PARKING USING IoT & MACHINE LEARNING
PLANT DISEASE DETECTION
BIRD REPELLENT SYSTEM
DISEASE INFERENCE FROM HEALTH RELATED QUESTION VIA DEEP LEARNING
EYE WINK DETECTION USING EEG SIGNALS
ACTION RECOGNITION USING DEEP LEARNING
FACE RECOGNITION BASED ATTENDENCE SYSTEM USING DEEP LEARNING
PEDESTRIAN DETECTION USING DEEP LEARNING
IMAGE CAPTIONING USING DEEP LEARNING
SMART FLOOD DISASTER PREDICTION SYSTEM USING IoT AND NEURAL NETWORK
INDUCING DISTANT SUPERVISION IN SUGGESTION MINING THROUGH PART-OF-SPEECH EMBEDDINGS
PLANT IDENTIFICATION USING LEAF CLASSIFICATION
FACT CHECKING IN COMMUNITY QUESTION ANSWERING FORUMS
WEED DETECTION USING DEEP LEARNING
HEART DISEASE DIAGNOSIS USING DATA MINING TECHNIQUE
BRAIN TUMOR DETECTION AND CLASSIFICATION USING DEEP LEARNING
ROAD DAMAGE DETECTION USING DNN WITH IMAGES
LARGE SCALE HIERARCHICAL TEXT CLASSIFICATION USING DEEP GRAPH-CNN
PERSONALIZED TREATMENT RECOMMENDER SYSTEM
DIABETIC RETINOPATHY DETECTION USING DEEP LEARNING
Information
Address
Vidya Academy of Science & Technology
Thalakottukara P.O., Kecheri, Thrissur - 680501, Kerala, India
Phone: +91 4885 287751, 287752
Fax: +91 4885 288366
E-Mail: principal@vidyaacademy.ac.in
locate us
Affiliated to APJ Abdul Kalam Technological University & University of Calicut Approved by AICTE | ISO 9001 : 2015
Copyright © 2019, www.vidyaacademy.ac.in. All Rights Reserved.